On 15th April 2019, a fire ravaged one of the world's most famous landmarks, the Notre Dame. The fire destroyed one of its spires and most part of the roof. Since then, the rebuilding process has slowly picked up pace over a month as people are putting in their best efforts to reconstruct this 850-year-old structure that is intertwined with French identity. The Cathedral boasts of exquisite stained glass windows, carvings, priceless Catholic relics, artifacts, paintings and statues among other irreplaceable artwork.
French Police have said that it was most likely an electrical short-circuit that caused the fire. It mostly was an accident but authorities haven't ruled out outdated fire-prevention security measures. Apparently, there were no sprinklers or firewalls in the attic, when the roof caught fire, to prevent electrical wiring ruining the artistic designs. This caused the fire to spread unmitigatedly until the fire brigade arrived.
"Our Lady of Paris in flames. Emotion of a whole nation. Thought for all Catholics and for all French. Like all our countrymen, I'm sad tonight to see this part of us burn," French President Macron had tweeted. The world extended their solidarity and support to all the people affected by the church fire. The reconstruction has started in earnest and the greatest threat to be faced in this period is said to be the wind. The strength of the structure to withstand strong winds has decreased by 60% according to reports.
Donations have started pouring from philanthropists and other businessmen all around the world. The University of Notre Dame alone donated $100.000 towards the cathedral's reconstruction. IBM pledged 1 Million Euros and Apple CEO Tim Cook also promised funds. Disney, who produced the film The Hunchback of Notre Dame – an adaptation of the novel by Victor Hugo of the same name, also pledged $5 million towards restoration efforts.
France has been accepting rebuild proposals from all around the world. With an ongoing debate whether the structure should be rebuilt exactly as it was or with other features, few of the suggestions have stood out.
Among them, a Paris firm has suggested a glass roof, an urban farm and a roof that will generate electricity. This is the brainchild of renowned green architect Vincent Callebaut. He also suggested a timber frame that sloped up to form the spire. He claims that his concept aims to unite spirituality, art, and science. "How can we write the contemporary history of our country, but also that of science, art, and spirituality together?," Callebaut says. "For it is hardly enough to reproduce the past as it used to be; we must project ourselves towards a desirable future, conveying to the world the thirst for transcendence that propels human beings."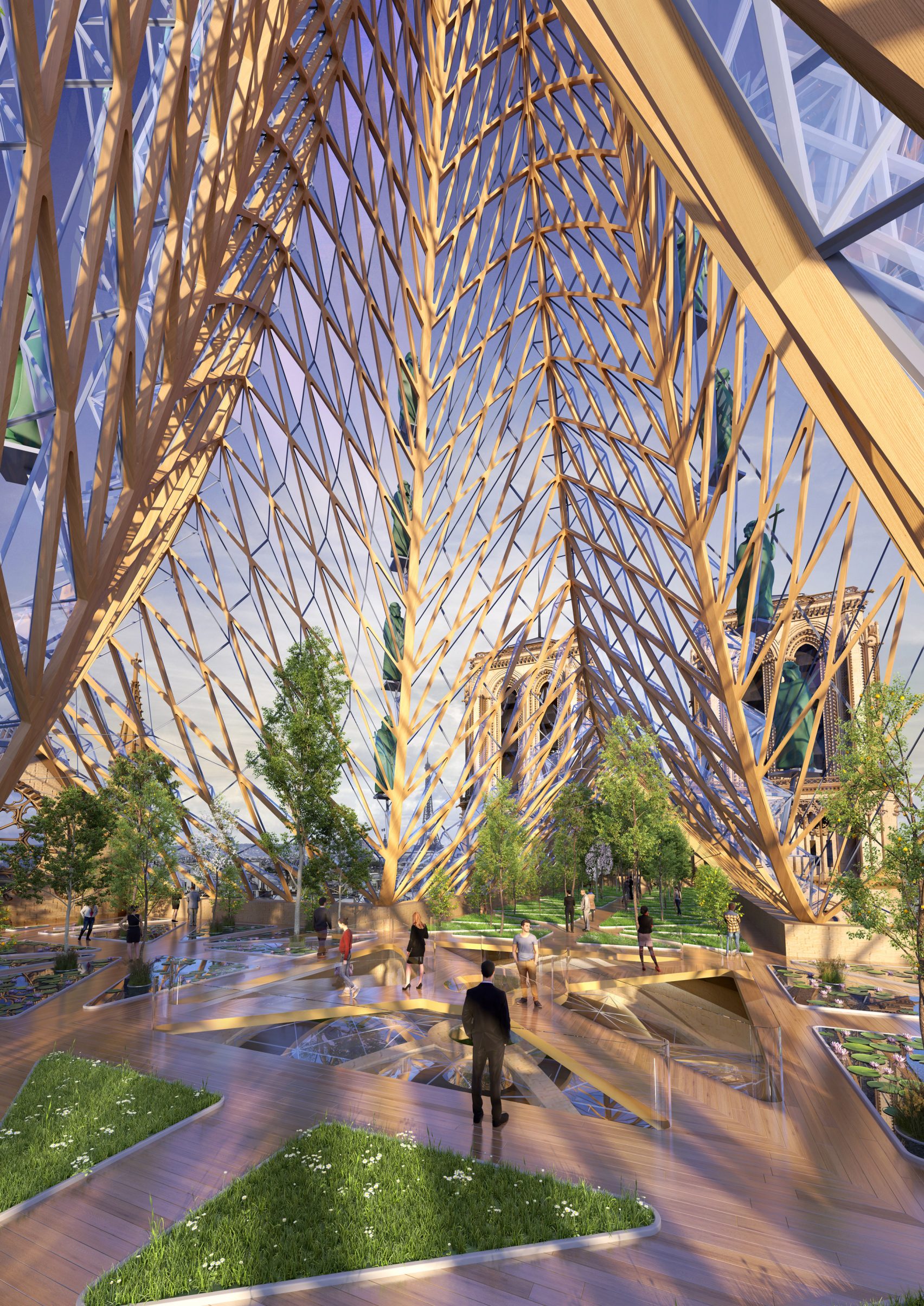 Callebaut has also selected construction materials that will leave a minimal carbon footprint. If his plan is accepted, the Notre Dame will be an energy positive structure due to the three-dimensional crystal glass along the roof. These diamond shaped crystals will have an organic active layer made of carbon, nitrogen, hydrogen, and oxygen. They will absorb light and transform it into power that will be stored in fuel cells to provide electricity and heating to the cathedral.
An urban garden is included in the plan which will be used for meditation and contemplation and to produce 5.5 pounds of fruits and vegetables per year. Callebaut also proposes a farmers' market be held every week in front of the structure to distribute the harvest of the gardens.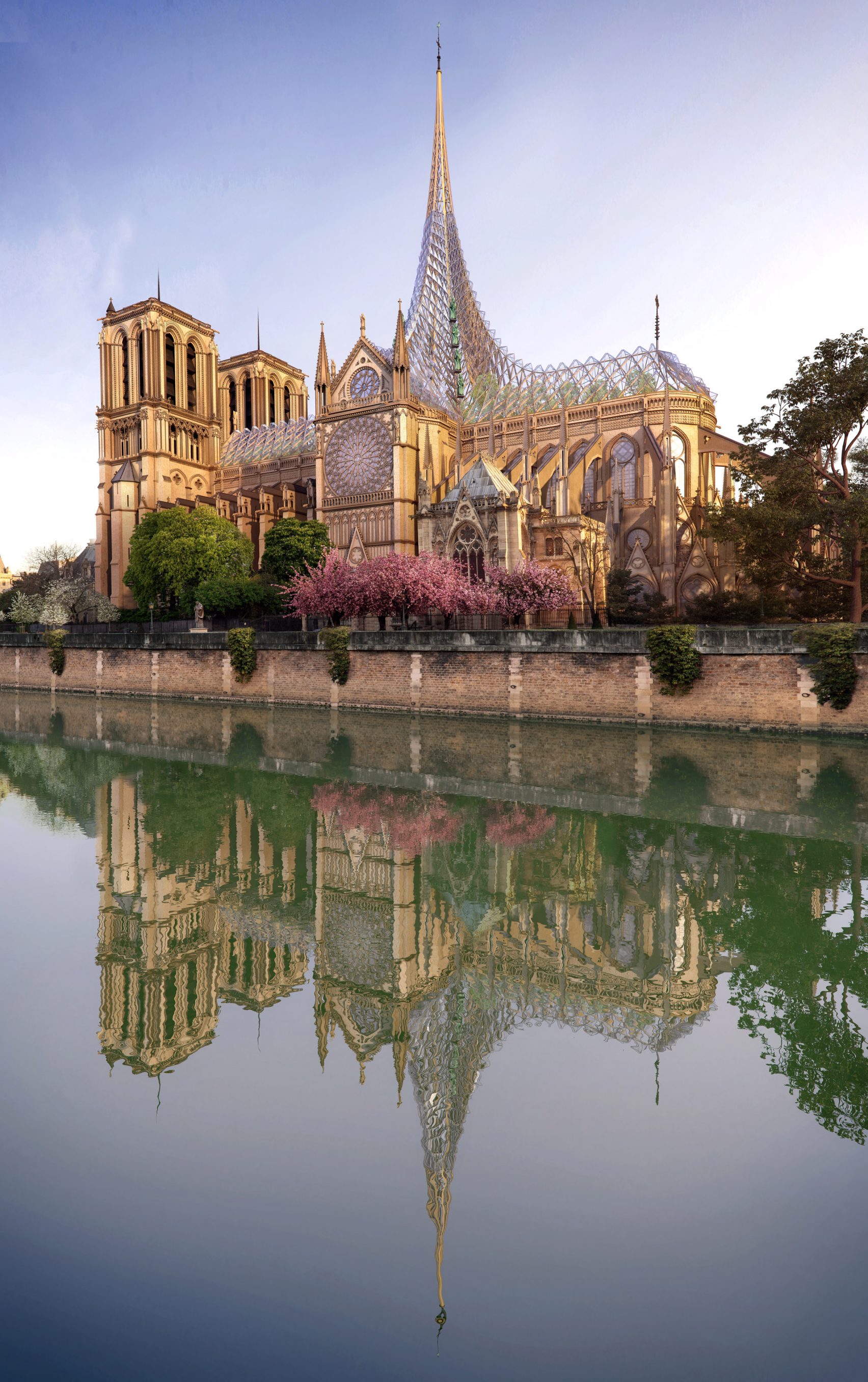 "We advocate for an exemplary project in ecological engineering that feels true to its time and avoids a pastiche architecture that turns the city into an open-air museum," Callebaut has written in his proposal. "Circular economy, renewable energies, inclusive social innovation, urban agriculture, protection of biodiversity, without forgetting the beauty and spiritual elevation: our reconstruction project feeds on such values to deliver a deep, conscious meaning."
This is a one of a kind proposal by Vincent Callebaut that will combine the old and the new in a spectacular fashion.
All images courtesy of Vincent Callebaut architectures